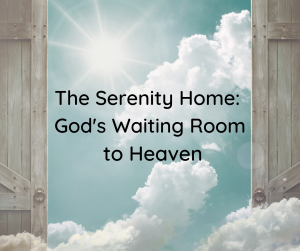 When Reverend Dave Rogula began as a volunteer Chaplain for Serenity Hospice over eight years ago, two weeks later, his mom became a patient. Before dying a peaceful death at the Serenity Home, she told Dave how much she loved being in "God's waiting room to heaven." Dave still refers to the Home this way. Countless people have expressed that the environment at the Serenity Home perfectly embodies our name, exuding a "serene" aura and embracing visitors in a feeling of peace and love.
If you get the sense that the Home is shielded by a powerful hidden force, you are entirely correct. Former Executive Director, Lorrie Bearrows, explains that the word of God literally encompasses the Home: "In every wall, in every nook, in every corner, in every closet, in every bathroom, in every place in this building, the word of God is written inside the walls." Before the drywall was up and there were just studs in the wall, people from the hospice community came in and covered the walls in their favorite scriptures and the positive inspirational quotes that reflected their values. Hidden from view, the presence of these sacred words can be felt in the Home.
Serenity is an inclusive and welcoming hospice that values all spiritual and religious paths, providing equal love and care to all. This is exemplified in the approach of our Chaplains. One of our Chaplains, Willie Little explains how he never goes into the home with an agenda, and instead introduces himself to the patient and says, " I just want you to understand one simple thing: God loves you." Then he stops talking and listens to the patient. He has supported patients of various faiths and uses the word God as an all-encompassing term that can mean different things to different people.
The spirituality of hospice transcends religious beliefs; Lorrie describes it as constituting "Knowing that the spirit of the person is what has driven them from birth until the moment they come into our lives as hospice people. We must honor and recognize their spirituality. Their value as a human person. And as a human person that has the very essence of God within them."
Nancy Tracy was a hospice and palliative care nurse for over thirty years before joining Serenity, over nine years ago, as our Community Relations Liaison. For her, being able to alleviate pain at the emotional, spiritual and physical levels is something sacred. She shares, "I have been at thousands of bedsides and, at those last moments of life, I felt like a conduit, between the Earth and the next chapter of their journey." As Reverend Dave says, we have many "angels of Mercy" working at Serenity, who, like Nancy, have a true calling to do this impactful work. Nancy refers to her work in hospice as being a "midwife on the other spectrum of life", birthing people into the great beyond with unconditional love and compassion. Her simple message exemplifies the heart of Serenity's mission: "We want our babies to come into this world with love and affection, so we want everyone that we touch to leave this world with that same love and affection."