Jack 'n Jill Aren't Playing Around
Local Couple Replaces Fundraiser's Lost Revenue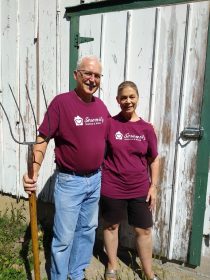 For area non-profits COVID-19 has made fundraising in 2020 quite difficult. For Serenity Hospice and Home located in Oregon, IL and serving nine counties in Northern Illinois, their major yearly fundraisers all had to be canceled. "We have a fundraising cycle that has been pretty consistent and successful for Serenity over the years," said Lynn Knodle, CEO of Serenity. "These events not only help us financially but they also help us stay connected with our volunteers and donors. We need all of these components in order to successfully carry out the mission of Serenity. Not only have events been canceled but personal donations have seen a drop as well." But one popular fundraiser, Serenity's Annual Garden Luncheon, became an inspiration to local philanthropists James Brown and Karen Virnoche. They decided to make it their goal to replace the $13,000 that usually is raised at the luncheon.
Karen and James admit they have been blessed with abundance and if you know these two you know they are always donating and volunteering. "We live in a wonderful community, have terrific friends, we had great careers and we own more material things than a person needs," said Karen. "We do not have children, so volunteering is one way we try to give back." The Oregon couple became associated with Serenity in 1998 when Karen's mother, who had cancer, was living with them and they used Serenity Hospice. "It was called Ogle County Hospice then and Jan Champley, our hospice nurse, was there to support us," said Karen. "When I retired in 2002, I went through the training to become a volunteer. When James retired in 2014, he became a volunteer as well."
Karen and James are known in the local area for building a solid fundraising event in the community through their "Breast Yard Sale in Town" which they hosted at their home on Maple Hill Farm just outside Oregon for 15 years. The proceeds from that event benefited the American Cancer Society. "We earned a reputation so to speak," said Karen. "People know that all our items are clean, well- organized, in good working order and sold for a fair price" After ending the Breast Yard Sale, they decided to switch gears a bit and start a new type of sale to benefit Serenity Hospice and Home.
"Our sales have created interest," said Karen. "We pick a theme and build on that. The current theme started because James is a Jack of all Trades and he decided after retiring and selling our rental apartments that he didn't need 10 shovels if you know what I mean." The theme for their new sale became "Jack of all Trades…and Jill's Too." So James began clearing out our basement, garage, barn and chicken coup while people and estates continued to give them donations; before long they had a barn full of items to sell. The first sale benefitting hospice was last summer. After thoughtful consideration, Karen and James decided that they would go ahead with this year's sale while being careful and following recommended social distancing guidelines. They also decided they would try to raise for Serenity as much as the canceled Garden Luncheon would have raised—$13,000. An optimistic goal for any fundraiser—especially for an event held in a barn and for only four days!
The Karen and James worked hard and their efforts certainly paid off. They met their goal of $13,000 in sales and also met many interesting people along the way. "We try to please!" said Karen. "This year we even sold things right out of our house." For example, a family from Georgia who was in the area visited the sale and Karen noticed they were wearing rope sandals very similar to the ones they wore in 1987 while whitewater rafting down the Grand Canyon. Karen's red rope sandals had sat in her closet ever since. James ran inside to get the sandals to show the lady who immediately fell in love with the color and it was her exact size. Karen made a deal and sold them for double what she had paid. James said, "When having conversations with our customers, we learn a lot about what they collect, special items they might be looking for or like in this case a trigger from what they are wearing!"
Karen and James use local media and word of mouth to make sure everyone knows that all the money they make goes to Serenity Hospice. "People like the idea that by purchasing something they are also helping Serenity Hospice," said Karen. "It is a great opportunity for us to talk about Serenity and we touch a lot of people with this event." If you are interested in becoming a volunteer for Serenity Hospice, contact Maia at 815-732-2499 or email her at maiaj@serenityhospiceandhome.org.