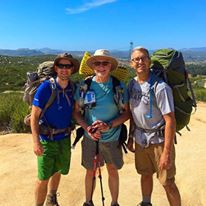 Serenity Hospice and Home was given $1000 from gofundme.com. This large international fundraising website was a part of Serenity's 100 Miles for Hospice walk on the Pacific Crest Trail by Jim Cole from Polo.
"Mr. Cole was going to walk the trail with his sons and wanted to turn it into a fundraiser for Serenity," said Angie Theisen, Community Relations Manager for Serenity. "He had many family and friends who did not live in the area so it made sense to set up a gofundme account so that they could donate online. We are so glad that we did."
The corporation collects money from contributors and deposits the money, minus five percent, into the campaign's bank account. One day the CFO of Serenity noticed a new $1000 donation. "I was very surprised to see this large deposit in our account one day," said Kathy Groenhagen, CFO of Serenity. "Especially since Mr. Cole's pledge drive was nearing its end."
That same day, Theisen received an email from gofundme stating that the 100 Miles for Hospice campaign had touched them and their employees had chosen to donate $1000 to the campaign. "We were all shocked," Theisen said. "We certainly were not expecting such a generous donation from such a large company. Most people have been surprised to hear that such a large corporation actually gave back to our small campaign."
Gofundme is a San Diego company which began in 2010.   It allows people trying to raise money to tell their story and collects online contributions. Gofundme takes 5% of each donation. It is the largest website dedicated to online fundraising in the world. Cole's gofundme page raised a little over $2800 and with other pledges he made a total of $5000 for Serenity Hospice and Home.